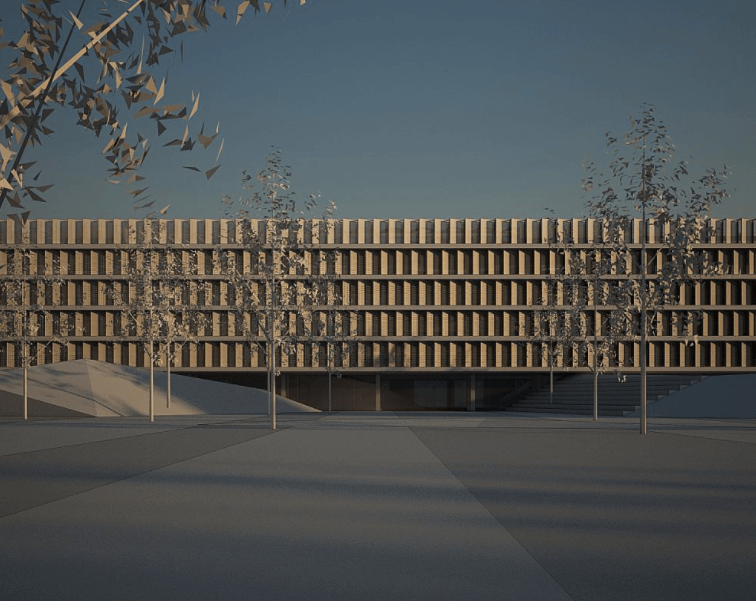 New Tirana City Hall Competition
The New City Hall is located on one of the intersections along the New Boulevard. Given the importance of the building for Tirana, this space is enlarged to become a simple square of 200×200 meter, substantially more prominent than the other envisioned public areas along the boulevard. The pure volume of the New City Hall is beautifully framed by the hills surrounding the city. The new square creates a visual and physical link to the mountains that represent the resilience and the vitality of the community of Tirana. The rocky surfaces of this cluster of hills evokes the mountainous landscape with local plants and indigenous trees that define a series of lavish gardens on the square. A real cut-out of nature into the cityscape. Some of the hills are programmed for various uses such as a stage, a fountain or a skate-park. Others hide interior functions, such as the bike storage, the underground parking entrance, the tourist info point, the cafe and the connected services. The square becomes an extension of the New City Hall with complementary activities.
The main structure of the building presents itself as a rational and transparent grid, built to work efficiently and communicate clearly. The atrium is composed by extroverted and interconnected volumes that provide space for a dynamic set of functions for both the city administration and the public. Here, educational and cultural initiatives foster active participation, curiosity, diversity and exchange, thus reaffirming the role of the city as an active and engaged member of the community in which it was founded. The New City Hall is not only a space for efficient administration and convenient services. It is the place where to forge a renewed citizenship based on dialogue and exchange between communities and generations.
Location:
Tirana, Albania
Client:
Tirana Municipality
Year:
2020 — On hold
Program:
Office, Culture, Laboratory, Services
Size:
44.000 m² (Building)
25.000 m² (Landscape)
Status:
International Competition — Finalist