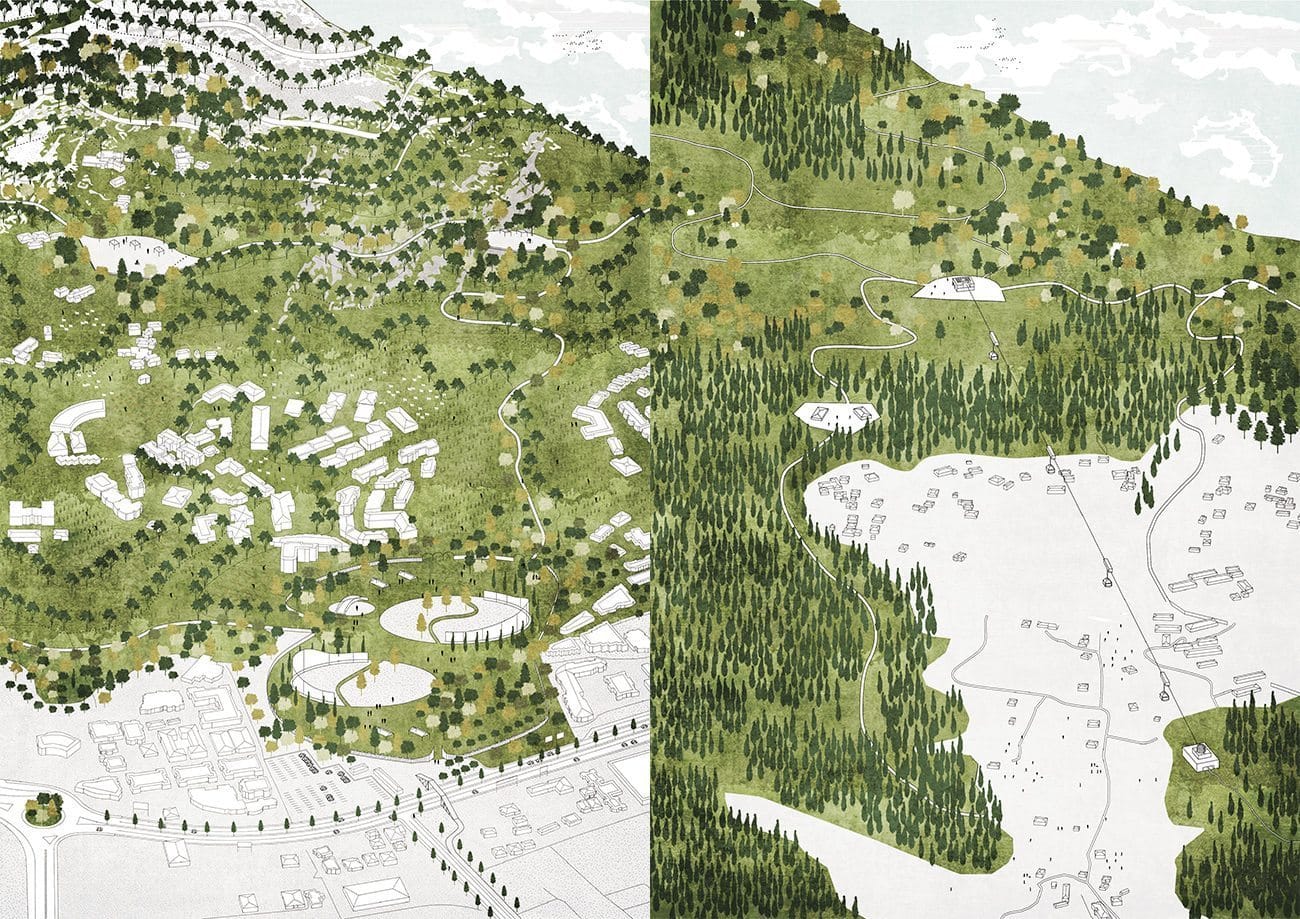 Tirana 2030 Design Team
A plan to reconquer the landscape: this is the vision for the future of Tirana from the present to 2030 and, in a nutshell, the core of the project developed by Stefano Boeri Architetti for the capital of Albania. The fundamental theme regarding the reclamation of the natural dimension within Tirana's urban environment is divided into several different operational sections. These include a continuous orbital forest system around the city with two million trees, including protected nature parks and oases to preserve and nourish the local biodiversity, new ecological corridors along the Lana, Tirana and Erzeni rivers and a green circle known as the "4th Ring" intended as a linear public space for mobility and in a central position compared to the larger Tirana metropolitan area. The project also involves the relaunching of smaller centres as a widespread network for tourism, agriculture and production in communication with each other and with the urban area. In this way the project intends to polarize the chaotic density of the consolidated city through the enhancement of sparsely populated peri-urban areas and satellite centres, each with their own specific potential.
Compared to the Plan of the previous century, Tirana 2030 reduces the forecast for demographic development of the urban area by two thirds in favour of a green city accessible to all in the name of functional plurality and a mix of activities. The new Plan by Stefano Boeri Architetti works by employing two methodological levels. The first is the interaction between a series of large areas and abstract vectors with other entities that are more "empirically determined": this results in an interposing approach, fed by small-scale interventions capable of acting on the regeneration of the existing fabric from the inside and also by capillary propagation at neighbourhood level. In more detail, the programme involves the construction of twenty new schools, overlooking a network of open spaces and urban squares provided with and offering cultural activities and services to the residents which give shape to a new image of a public and inclusive city.
Lead Design:
Stefano Boeri Architetti
UNLAB
IND
DESIGN TEAM
Stefano Boeri (founding partner)
Francesca Cesa Bianchi (project leader)
Corrado Longa
Michele Brunello
Jacopo Abbate
Jona Arcaxhiu
Orjana Balla
Rudina Belba
Tracy Decolly
Laura Didonfrancesco
Ani Marku
Era Merkuri
Martina Mitrovic
Hana Narvaez
Jona Os
Elian Stefa
Location:
Tirana, Albania
Client:
Ministry of Urban Development
Year:
2015 — 2017
Program:
General local plan and Masterplan