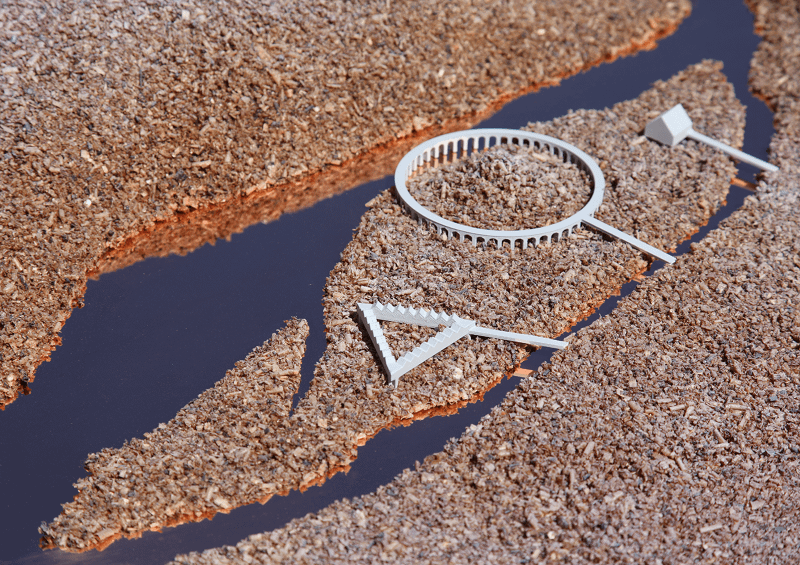 Osumi Panoramas Competition
Our aim is to instigate a zone of negotiation; the Osumi Island must become the fulcrum where nature and urbanity unite. What happens on the island has to primarily generate confluence – one that becomes cultural and enduring. Rather than a strict re-naturalisation plan, or it's opposite, a conquer of space for the city, we propose a hinge: a multilayered process where people and nature can not only coexist but cooperate. We plan a device which can resolve many of the existing challenges while offering various possibilities of experience. Various new perspectives are composed – of the Osumi natural ecosystems, of the city, castle and its surroundings, mirroring those which the city is so plentiful of in a series of new Osumi Panoramas.
From the river embankment three walkways project over a canal-pool and give access to a path on the top of a stepped earth bank, before continuing towards the island and our three proposed structures. Each suggest a distinct way of experiencing nature and offer a separate degree of protection to a recovered environment. Every typology enacts the idea of the panorama in various ways, providing each a particular form of perception: the Greenhouse contains, the Colonnade protects and the Market discloses.
This narrative of panning, scanning and focusing on particular ecologies is complemented with spaces for programme and public activities. The Greenhouse, the Colonnade and the Market are to become landmarks of cultural and social significance. Osumi Panoramas aims to create cultural significance with moderate means: setting a simple infrastructure where both natural and urban environments may coincide in a graceful yet convincing manner.
Location:
Berat, Albania
Client:
Atelier Albania
Year:
2015
Program:
International Urban Design Competition
Prize:
Third Place